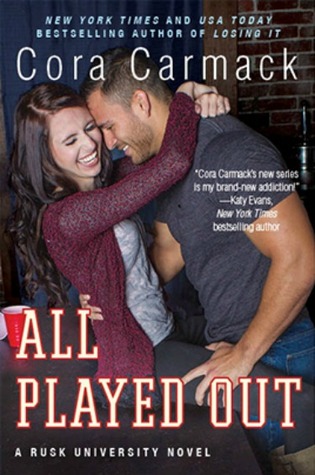 First person in her family to go to college? CHECK.
Straight A's? CHECK.
On track to graduate early? CHECK.
Social life? …..yeah, about that….
With just a few weeks until she graduates, Antonella DeLuca's beginning to worry that maybe she hasn't had the full college experience. (Okay... Scratch that. She knows she hasn't had the full college experience).
So Nell does what a smart, dedicated girl like herself does best. She makes a "to do" list of normal college activities.
Item #1? Hook up with a jock.
Rusk University wide receiver Mateo Torres practically wrote the playbook for normal college living. When he's not on the field, he excels at partying, girls, and more partying. As long as he keeps things light and easy, it's impossible to get hurt... again. But something about the quiet, shy, sexy-as-hell Nell gets under his skin, and when he learns about her list, he makes it his mission to help her complete it.
Torres is the definition of confident (And sexy. And wild), and he opens up a side of Nell that she's never known. But as they begin to check off each crazy, exciting, normal item, Nell finds that her frivolous list leads to something more serious than she bargained for. And while Torres is used to taking risks on the field, he has to decide if he's willing to take the chance when it's more than just a game.
Together they will have to decide if what they have is just part of the experiment or a chance at something real.
~~~~~~~~~~~~~~~~~~~~~~~~~~~~~~
This series just keeps getting better and better. I loved Nell! She is a girl after my own Type A, list making heart! I can totally relate to her story, having experienced a similar realization myself early on in my college career. Although my "list" didn't exactly look like Nell's, the motivation behind it was the same. I also loved Mateo's character and discovering the vulnerable side lurking underneath the confident exterior. On the surface, this couple shouldn't work, but somehow they end up being the perfect fit. This book is fun, funny, and sexy as hell. I loved the back and forth between Nell and Mateo, and watching their love story unfold. Don't be put off by the football thing, if you're not a fan of the sport. I'm not a huge fan either, but this series is totally worth the read.
Up next in the series is All Closed Off, which is Stella and Ryan's story. Looks like we should expect it sometime in 2016. I'm super excited about this one and have a feeling that it is going to be awesome!