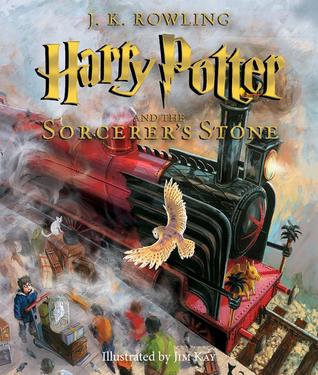 For the first time, J. K. Rowling's beloved Harry Potter books will be presented in lavishly illustrated full-color editions. Rowling herself selected artist Jim Kay, whose over one hundred illustrations make this deluxe format as perfect a gift for the child being introduced to the series as for the dedicated fan.
Harry Potter has never been the star of a Quidditch team, scoring points while riding a broom far above the ground. He knows no spells, has never helped to hatch a dragon, and has never worn a cloak of invisibility.
All he knows is a miserable life with the Dursleys, his horrible aunt and uncle, and their abominable son, Dudley--a great big swollen spoiled bully. Harry's room is a tiny closet at the foot of the stairs, and he hasn't had a birthday party in eleven years.
But all that is about to change when a mysterious letter arrives by owl messenger: a letter with an invitation to an incredible place that Harry--and anyone who reads about him---will find unforgettable.
~~~~~~~~~~~~~~~~~~~~~~~~~~~~
I love the
Harry Potter
series. It has become one of those books that I pick up when I need to escape reality into a familiar and comforting story. I have read this series so many times and I never get bored with it. It is definitely a series that will forever hold a special place in my heart.
When I heard that there was going to be an illustrated edition of the story released, I was incredibly excited to get my hands on it. Jim Kay's illustrations are breathtakingly beautiful. He perfectly captured the wonder, humor, magic, and heartbreak of Harry's story and his first introduction into the wizarding world.
This will make a wonderful edition to any Harry Potter fan's library.