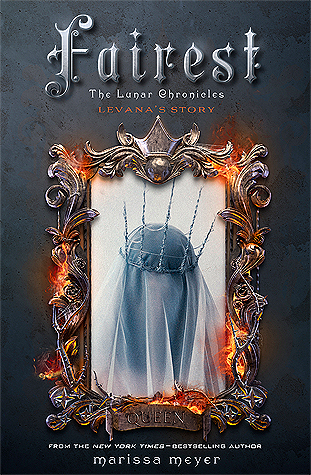 Mirror, mirror on the wall,
Who is the fairest of them all?
Fans of the Lunar Chronicles know Queen Levana as a ruler who uses her "glamour" to gain power. But long before she crossed paths with Cinder, Scarlet, and Cress, Levana lived a very different story – a story that has never been told . . . until now.
~~~~~~~~~~~~~~~~~~~~~~~~~~~~~~~
Usually when I read books like, Fairest, I come away with a more sympathetic opinion towards the villain, but I don't know if I can say this is the case with Levana. There were moments when I felt sympathy and could almost understand why she did what she did, but then she would ruin the newly formed sentiment by doing something completely selfish and hypocritical that I found myself back at square one, thinking that she is just an awful queen to needs to be deposed. Her perceptions and understanding of the world were so off that it didn't take much of a stretch of the imagination to understand why she acted the way she did and made the decisions she made. Did Levana's story make me feel sorry for her? Yes, I had fleeting moments of sympathy, but in the end, this novel did little to change my opinion of her. I'm still #TeamCinder!