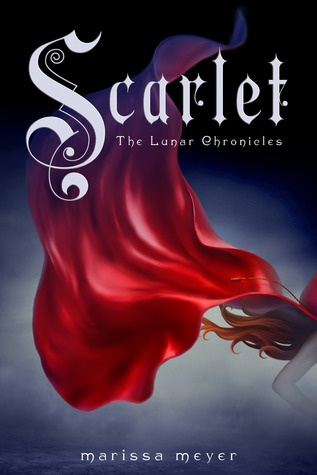 Cinder, the cyborg mechanic, returns in the second thrilling installment of the bestselling Lunar Chronicles. She's trying to break out of prison—even though if she succeeds, she'll be the Commonwealth's most wanted fugitive.
Halfway around the world, Scarlet Benoit's grandmother is missing. It turns out there are many things Scarlet doesn't know about her grandmother or the grave danger she has lived in her whole life. When Scarlet encounters Wolf, a street fighter who may have information as to her grandmother's whereabouts, she is loath to trust this stranger, but is inexplicably drawn to him, and he to her. As Scarlet and Wolf unravel one mystery, they encounter another when they meet Cinder. Now, all of them must stay one step ahead of the vicious Lunar Queen Levana, who will do anything for the handsome Prince Kai to become her husband, her king, her prisoner.
~~~~~~~~~~~~~~~~~~~~~~~~~
I really loved this novel. I enjoyed
Cinder
, but having the two parallel stories added another element that made it easy to fly through the pages. I loved how Marissa took the story of Little Red Riding Hood and put a unique twist on it. Scarlet is a fantastic character. I love her sass and independence. Wolf is intense, dangerous, and wild, which of course made for an exciting time as he and Scarlet got closer. It made me swoon a little to see how Wolf was tamed and softened by Scarlet, but never lost his edge. Carswell Thorne was great comic relief and his interactions with Cinder were fun to read. Marissa weaved the two story lines together beautifully and I love the motley crew of characters that is coming together.
Scarlet
is even better than
Cinder
and I'm excited to see what happens next. On to book three!
2016 Reading Challenge: A book based on a fairy tale